Uliastai

Type

Town

Faction

Villages

Sekhtem, Zedouhkan

Sieges with

Ladders

Lord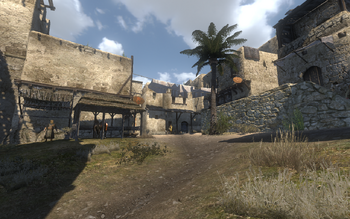 Uliastai is one of the towns of Drahara. It is held be Emir Barakat at the start of the game.
Territory
Edit
Its villages are Sekhtem and Zedouhkan.
Besieging Uliastai requires the construction of siege ladders.
Tournaments
Edit
Tournament participants at Uliastai will be equipped with one of the following loadouts:
Dagger and throwing daggers
The Guild Master of Uliastai can be found by walking through the main entrance and continuing up three flights of stairs towards the top of the town. The Guild Master will be standing on the landing before the final staircase on some red rugs under a canopy.
The tavern keeper is Lavina Montey.
Community content is available under
CC-BY-SA
unless otherwise noted.