Tumatarhun

Type

Town

Faction

Villages

Turan, Adat, Kesser

Sieges with

Ladders

Lord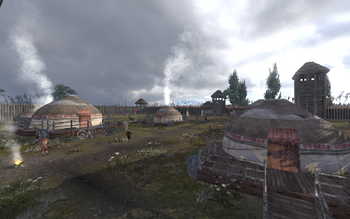 Tumatarhun is the capital town of the Kuu-lan Horde. It is held be Boshman Baatur at the start of the game.
Territory
Edit
Its villages are Turan, Adat, and Kesser.
Besieging Tumatarhun requires the construction of siege ladders.
Tournaments
Edit
Tournament participants in Tumatarhun will be equipped with one of the following loadouts:
The Guild Master of Tumatarhun can be found by following the main path to the back of the town. He will be standing in front of a firepit to the left of the castle.
The tavern keeper is Anara.
Community content is available under
CC-BY-SA
unless otherwise noted.