Tolranian Squire

Culture

Weekly Wages

11-44 aurums

Acquire From

Player-owned Tolranian towns and castles

Upgrades To

Tolranian Squires are first-tier noble troops of the Kingdom of Tolrania.
Swift and powerful cavalry units drawn from nobles of exceptional combat skills. Armed with lances, they can deliver deadly couched lance blows against their enemies.
Equipment
Edit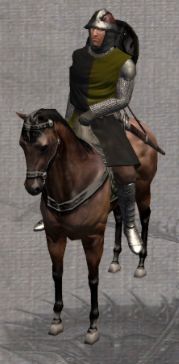 Heraldic Mail with Tabard
Tolranian Kettle Hat
Mail Boots
Mail Mittens
Squire's Sword / Senior Page's Lance
Horseman's Kite Shield
Hunter

Community content is available under
CC-BY-SA
unless otherwise noted.