Tolranian Knight of The Crown

Culture

Weekly Wages

Acquire From

Upgrades To

N/A

Tolranian Knights of the Crown are the household troops of Count Rylorius.
They are better trained and armored than regular Tolranian Knights, however they use cutting claymores instead of piercing morningstars which makes them worse damage dealers against heavily-armored targets.
Equipment
Edit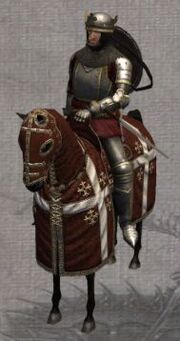 Kingsman Plate
Crowned Helmet
Cased Greaves
Ornate Hourglass Gauntlets
One-Handed Knight's Claymore
Red&Gold Metal Shield
Kingly Tolranian Warhorse

Community content is available under
CC-BY-SA
unless otherwise noted.