Tolranian Knight

Culture

Weekly Wages

35-142 aurums

Acquire From

Upgrades To

N/A

Tolranian Knights are second-tier noble troops of the Kingdom of Tolrania. These powerful noble warrior can change the tide of a battlefield with their sweeping lance charges. Both the rider and the horse are well armored, and battle hardened.
Equipment
Edit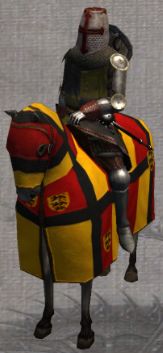 Heraldic Mail and Plate
Red Great Helmet
Plate Boots
Red Splinted Leather Gauntlets
Dark Tolranian Morningstar / Knight's Lance / Red Striped Lance
Knightly Heater Shield
Red/Black Dotted War Horse / Red/Yellow War Horse

Community content is available under
CC-BY-SA
unless otherwise noted.