Tolranian Kingsman

Culture

Weekly Wages

Acquire From

Upgrades To

N/A

Tolranian Kingsmen are sixth-tier troops of the Kingdom of Tolrania.
Elite soldiers of the Tolranian Army. Formidable infantrymen armed with Morningstars and the iconic Kingsman Plate, each of these soldiers are a match of ten of their enemies. They are potent frontline infantrymen that can dish out heavy blows.
Equipment
Edit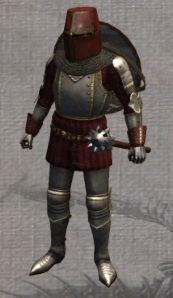 Kingsman Plate
Decorated Red Helm
Cased Greaves
Red Splinted Leather Gauntlets
Tolranian Morningstar /Dark Tolranian Morningstar
Round Gold Lion Shield

Community content is available under
CC-BY-SA
unless otherwise noted.