Tolranian Headhunter

Culture

Weekly Wages

Acquire From

Upgrades To

N/A

Tolranian Headhunters are sixth-tier troops of the Kingdom of Tolrania.
Elite skirmisher units of the Tolranian Army. Forward scouts specialized in harassing the enemy and counter cavalry charges. In times of peace, they are seen hunting bandits and wandering criminals in the countryside of the Kingdom of Tolrania.

Count Mirchandus fields them in very large numbers.
Equipment
Edit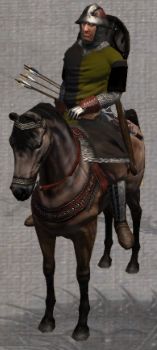 Heraldic Mail
Tolranian Kettle Hat
Splinted Greaves with Spurs
Red Splinted Leather Gauntlets
Tolranian Winged Mace
Knightly Kite Shield
Redfire Sheriffs Bow
Blacksteel Arrows
Brown Tolranian Hunter

Community content is available under
CC-BY-SA
unless otherwise noted.