Nibor Hood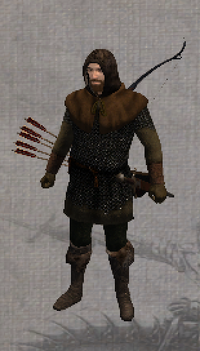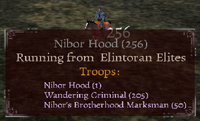 Nibor Hood is a unique spawn and the leader of the Outlaws.
Background
Edit
Nibor Hood is the leader of the Outlaws, or what used to be called the Free Men. Hood founded the Free Men because he saw the Tolranian government quickly transitioning from the promised republic to a more authoritarian state, and wanted to take up arms against this injustice. Over time, however, his forces were beaten back by the more powerful Tolranian military, and in increasing desperate attempts to save his cause he started to fill his ranks with criminals and outlaws. Today, the name Free Men has been largely replaced by another name, the Outlaws, to reflect the true nature of Nibor Hoods' forces: a miscellaneous collection of bandits, looters, and other groups seeking refuge from the law. Although Hood still refers to his men as the Free Men, it is clear to anyone outside the orginazation that his past agenda for political reform and justice has been greatly diluted over the years.
Little is known about Nibor Hood's personal life, besides that he was born and raised in the Tolranian lake village of Ander. He is also the brother of the current claimant to the Tolranian throne, Lady Tylora.
Nibor Hood's party spawns with the following troops:
Total size: 251-451 men
Nibor Hood's scouting parties spawn with the following troops:
10-25 Nibor's Brotherhood Marksmen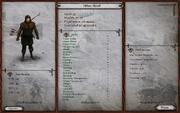 Nibor is the word 'Robin' reversed, an indication that Nibor Hood's character inspiration was the story of Robin Hood. However, it is clear that Nibor is more of an anti-hero, bordering on villain than Robin Hood was portrayed in his story.
Community content is available under
CC-BY-SA
unless otherwise noted.