Leuven

Type

Town

Faction

Villages

Chriton, Fasera, Suvant

Sieges with

Ladders

Lord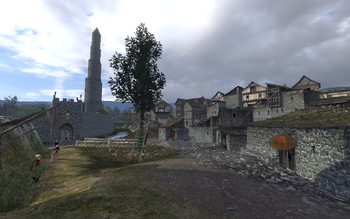 Leuven is one of the towns and the capital of the Kingdom of Tolrania. It is initially owned by King Torlian. Leuven is notable for being the site of a gold mine, as well as the famed Tower of Tolranus.
Territory
Edit
Its villages are Chriton, Fasera, and Suvant.
Besieging Leuven requires the construction of siege ladders.
Leuven produces:
Bread
Ale
Wine
Leatherwork

Tools
Velvet
Wool Cloth
Oil

 
Leuven also produced Gold Ingots, which can be bough for 4,000 aurums each from Galeas, who can be found standing outside the entrance to the gold mine. The tavern keeper is John Silverthorn. The Guild Master for Leuven can be found by walking through either the gold mine to the right or the fort to the left to get to the residential area. The Guild Master is standing on a raised stone platform in the middle of the town.
Community content is available under
CC-BY-SA
unless otherwise noted.