Lesbere

Type

Town

Faction

Villages

Arcross, Yascon, Varote

Sieges with

Siege tower

Lord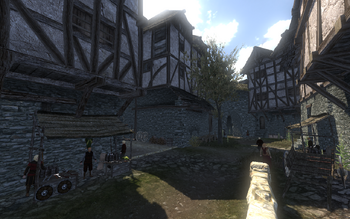 Lesbere is one of the towns of the Kingdom of Tolrania. It is held be Count Calarius at the start of the game.
Territory
[
]
Its villages are Arcross, Yascon, and Varote.
Siege
[
]
Besieging Lesbere requires the construction of a siege tower.
Tournaments
[
]
Tournament participants at Lesbere will be equipped with one of the following loadouts:
Lance, shield, and horse
Sword and shield
Heavy sword
There is a 1/3 chance of spawning with a horse
Economy
[
]
The Guild Master of Lesbere can be found by following the main street all the way to the castle. The Guild Master is standing on the balcony next to the Castle Guard.
The tavern keeper is Pya Wenham.