Krain

Type

Town

Faction

Villages

Chelnye, Reness

Sieges with

Ladders

Lord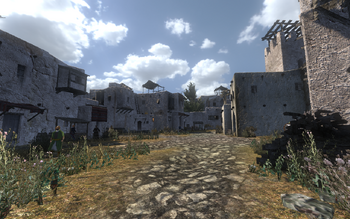 Krain is one of the towns of Drahara. It is held by Alagur Noyan at the start of the game.
Territory
[
]
Its villages are Kusba, Kaibel, and Mopon.
Siege
[
]
Besieging Krain requires the construction of siege ladders.
Economy
[
]
Krain produces:
Ale
Bread
Leatherwork
Oil

Pottery
Tools
Wine
Wool Cloth

 
The Guild Master for Krain can be found by walking straight through the entrance and turning right. He is standing in front of the building next to the shop, in front of a stool. The tavern keeper is Swidhelm Roundtree.