Khul Vara

Type

Town

Faction

Villages

Ubi Dahae, Ferago, Tollu, Dydal, Esca

Sieges with

Ladders

Lord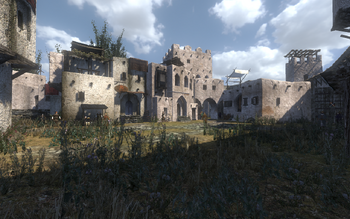 Khul Vara is the capital city of Drahara. It is held by Sultan Yusuf al-Salah at the start of the game.
Territory
Edit
Its villages are Ubi Dahae, Ferago, Tollu, Dydal, and Esca.
Besieging Khul Vara requires the construction of siege ladders.
Khul Vara produces:
Ale
Bread
Leatherwork
Oil
Pottery

Smoked Fish
Tools
Salt
Spice
Wool Cloth

 
The Guild Master for Khul Vara can be found by going straight through the entrance to the town, continuing straight until the player has reached the building with a wheel out front, and then turning right. The Guild Master is standing on the terrace of the building, next to a stool.
Community content is available under
CC-BY-SA
unless otherwise noted.