Kaiser Otto IV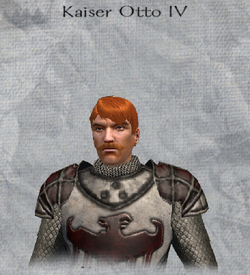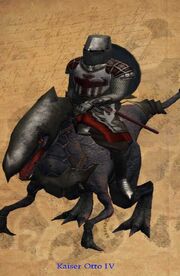 Kaiser Otto IV is the monarch of the Reich des Drachen, the land of the dragons which is originally from far west of Perisno.
Emperor of the Dragon Nation
[
]
Came from the far western land, the Drachen bulit a massive power and soon become a major realm in Perisno, creating the six nations that struggles for supreme domination. Kaiser Otto IV is the one who established Reich des Drachen into a great country, carrying dragons and wyverns to fight their foes. A man with great charisma and experience of politics, turning him into a tough ruler that both feared and respected by the other rulers.
Details
[
]
A powerful man in both battlefield and throne, his army is very large and powerful compared to all Drachen war parties. The Kaiserliche Dragoners under his commands are extremely powerful and among the mightiest cavalry unit in Perisno. His daughter, Princess Birgit is eligible to wed and once player marry her, he will be the vassal of Reich des Drachen and Kaiser Otto IV will be his father-in-law.
Fiefs
[
]
At the start of the game Kaiser Otto IV owns Murdenholl, villages Kohlgruben and Angern.
Skills
[
]