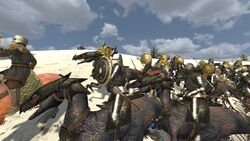 Household troops are either troops that are unique to a lord or are rare units that a particular lord fields in notable numbers. The only way to recruit other lords' household troops is to rescue them as prisoners. The strength of household troops may vary but they tend to be above average quality.
It is worth noting that if the player changes the culture of a vassal's troops, that vassal will lose their household troops.
Lords and their troops
[
]
Companion Household troops
[
]
Player's Household Troops
[
]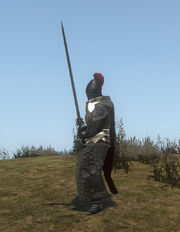 Once they capture a castle and own it through vassalage or creating your own faction, the player can recruit Household Guard troops from their constable for 10,000 aurums. This unit has extremely high attributes, skills, and profiencies, and their armor and weapon loadout is fully customizeable. Due to these high skills in every area, they can be equipped with very powerful equipment at no extra cost to the player. They can only be recruited through a castle constable.