Herzog Oskar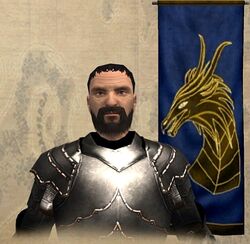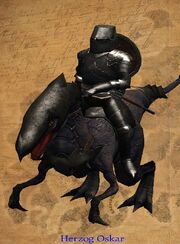 Herzog Oskar is a vassal of Kaiser Otto IV of Reich des Drachen and the father of Baron Ralf.
Herzog Oskar is one of the most dangerous lords in the world of Perisno, and is the most renowned vassal, with his starting renown of 2130 surpassing even Kaiser Otto IV himself.
Like Vizier Khalil of Drahara, he is almost always the marshal and fields a larger and more dangerous army than the king. Bearing the unique title "Herzog" due to his achievements for the Reich, he is the leader of legendary Drachenmeister. He also rides the unique black High Dragon - the greatest of all dragons in the land.
At the start of the game Herzog Oskar owns Voldeberg, villages Krumau and Ruckendorf.
Despite his age, Herzog Oskar is at peak physical condition, being a virtually unmatched fighter, a great leader, trainer and tactician and still one of the smartest, well-educated and generally skilled people in the world of Perisno.
Community content is available under
CC-BY-SA
unless otherwise noted.