Galwe

Type

Town

Faction

Villages

Arcross, Livres, Lisgal

Sieges with

Siege Tower

Lord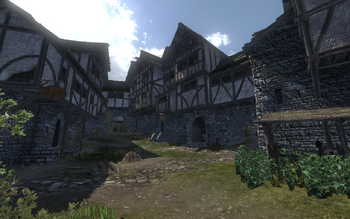 Galwe is one of the towns of the Kingdom of Tolrania. It is held by King Torlian. Galwe is renowned across Perisno as being the center of knowledge and learning, and it is home to the greatest library in the land. Galwe is coincidentally also the most centrally-located town on mainland Perisno.
Territory
Edit
Its villages are Arcross, Livres, and Lisgal.
Besieging Galwe requires the construction of ladders.
Galwe produces:
Ale
Bread
Leatherwork
Oil

 
The Guild Master for Galwe can be found by following the center road through the town all the way to the castle. The Guild Master is standing on a terrace to the right of the castle doors. The tavern keeper is Olaf Darktrunk.
Community content is available under
CC-BY-SA
unless otherwise noted.