Forde

Type

Town

Faction

Villages

Bravan, Stuin, Huslea, Olsway

Sieges with

Gates

Lord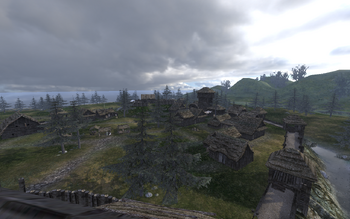 Forde is one of the towns of Maccavia. It is held by Lord Licinius at the start of the game.
Its villages are Bravan, Stuin, Huslea, and Olsway.
Besieging Forde does not require siege ladders. Instead, the main gates must be battered down by weapon blows or missiles.
Forde produces:
Bread
Smoked Fish
Ale
Wine
Leatherwork

Tools
Wool Cloth
Linen
Pottery
Salt

 
The Guild Master for Forde can be found directly to the right of the entrance to the town, standing in front of a large wooden house. The tavern keeper is Chermin Stoneheart.
Community content is available under
CC-BY-SA
unless otherwise noted.