Draharan Shadow Assassin

Culture

Weekly Wages

108-430 aurums

Acquire From

Prisoners

Upgrades To

N/A

Draharan Shadow Assassins are the household troops of Emir Grasullah. Armed with the deadly Assassin's Sword and mounted on swift Perisno Purebred horses, they are a dangerous cavalry force that can tear through any army's infantry rank and even stop a heavy cavalry charge dead in its tracks.
Their main base is Tabranpadan Castle that they defend personally.

Equipment
Edit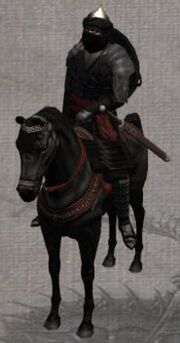 Community content is available under
CC-BY-SA
unless otherwise noted.