Drachenritter

Culture

Weekly Wages

Acquire From

Upgrades To

N/A

Drachenritters are second-tier noble troops of the Reich des Drachen. The Drachenritters are the deadliest horsemen is the Reich's arsenal, only inferior to the household troops of some Lords, and some of Perisno's most feared cavalry troops. Their warhorses are heavy and deadly, and the riders themselves are no less lethal. The Plated Chargers can knock most enemies out cold while the riders on top slice those still standing. Their name translates literally to "Dragon Knight".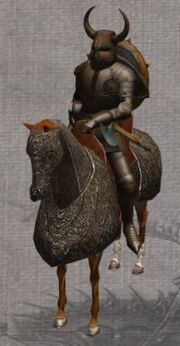 Community content is available under
CC-BY-SA
unless otherwise noted.