Calarius Kingsman

Culture

Weekly Wages

Acquire From

Prisoners

Upgrades To

N/A

Calarius Kingsmen are the household troops of Count Calarius.
They're the slowest and probably the weakest of all Kingsmen, but they use blunt maces that are not only good for the purpose of prisoner taking, but also have high armor penetration coefficient.
They also demand smaller wages than other Kingsmen.
Equipment
Edit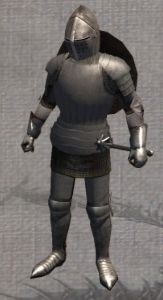 Steel Plate Armor
Visored Helm
Shynbaulds
Plate Mittens
Iron Flanged Mace
Red Beast Steel Shield

Community content is available under
CC-BY-SA
unless otherwise noted.